Expand your nighttime living space & enhance your home. At Perfecturf Lawncare, we will create a visually stunning look for your outdoor living space with the most versatile landscape lighting solutions available. Don't let darkness hide the beauty of your home & landscape. Instead, reveal a nighttime scene with subtle, elegant low-voltage outdoor lighting.

Enjoy Safety & Security
Strategically placed exterior LED landscape lighting is one of the best investments you can make for your home. Not only does it showcase the unique features of your home, but it also extends your enjoyment of the outdoors, creates a welcoming sense of security for family and friends, and deters unwanted intruders.
From spotlighting trees to highlighting paths, our landscape lighting is designed for both form and function. Engineered for all-weather performance, our accent lighting service will add beauty and safety to your outdoor spaces all year long.
Color Changing Technology
Lighting System Features:
Zoning allows lights to be programmed into preset groups
Dimming allows lights to emit any desired illumination percentage
Choose from a spectrum 30,000 vibrant possibilities
Wireless control: Optional iOS and Android app
Calendar-based programming
Decorating for the holidays just got easier! These fixtures are permanent and can be preset for every holiday to change to the colors you desire.
Calendar-based programming automatically adjusts to Christmas, Halloween, 4th  of July, or any special occasion. When the holiday is over these lights automatically go back to white to give your home the traditional outdoor landscape lighting look.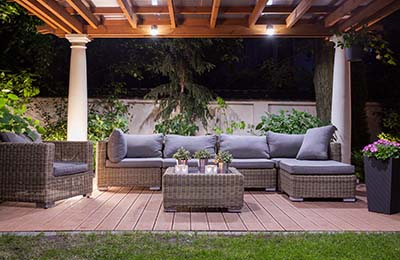 Expanded Living Space & Extended Time 
You, your family, and your guests will be able to enjoy decks, porches, pools, and planting areas late into the evening. The amount of space that can be used to relax or entertain can be expanded allowing you to spend more time outside instead of returning to the indoors at dusk. Your outdoor spaces will come alive and become even more beautiful as the sun disappears.
Low Voltage Lighting Options 
Up lights add a tremendous amount of texture, contrast, and interest by highlighting trees and landscaping
Down lights mimic the effects of moonlight and are practical when hung or mounted above tables, barbecues, and seating areas
Path lights provide safe illumination for walkways
Wall lights increase safety, define edges, and enhance ambience
Specialty lights, such as well lights, are used to illuminate driveways; underwater lights add drama to water features
Controllers provide power to your lighting system with traditional, digital, or advanced zoning/dimming/color control with optional Wi-Fi capabilities from your smart device
Request A Design Consultation 
No two homes are the same, so it's hard to imagine what your unique property will look like with landscape lighting. That's why we offer complimentary custom lighting design plans. We will tour your property, discuss your needs, your preferences, and what you're looking to achieve with your outdoor lighting project. 
There is no one-size-fits-all approach to lighting your home. From specific lighting features to safety concerns to a particular mood, we want to get a comprehensive understanding of what you're looking for.